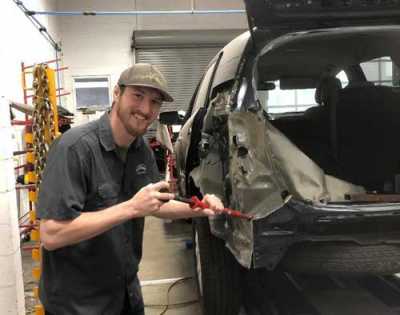 The young auto body technician is a well-known and dedicated bagpiper
Christophe muse, a metal technician at Mike's body, is only 25 years old, but he has been playing the bagpipe for 14 years and is a member of one of the largest nationally recognized bagpipe groups in the country.
Muse joined the Prince Charles Pipe Band (PCPB) in South San Francisco, California, when he was just 11 years old. JW Bill Merriman, a former member of the Caledonian Pipe Band in the city of San Francisco, taught him the art of the bagpipe. The group, which started out with a small number of students, trained around 500 pipers and drummers and competed in the United States, Canada and Scotland for over 50 years.
To be a good metalworker and excel as a piper, Muse knows that training is the only way to get there.
"To fix a car properly you have to think and multitask all the time, and playing the bagpipe is very similar," he said. "We have to memorize the music, and there are a lot of different things going on when I play music."
In February 2017, Muse graduated from Mike's Auto Body training program in Antioch, California. He is currently working at the MSO location in Vallejo, CA, as a metal technician.
"To complete the training program at Mike's, I took many classroom courses and did hands-on repairs on metal, plastic, panel removal and vehicle construction on salvaged vehicles. After completing the program, I had already obtained I-CAR Training Pro Level 1, and I am now also fully certified Car-O-Liner.The program director is Lupe Algood, who is an amazing teacher who prepares all of his students for continued success in this industry. "
Since Muse graduated from the program, Algood has seen him grow within the company.
"When he entered the program he didn't know much about cars, but he worked hard to learn the trade, and his focus is amazing," said Algood. "He is a hard worker and stands out for his commitment to the company and the profession."
After graduation, Muse went through Mike's Auto Body's mentoring program, observing journeyman technicians and learning the trade by doing everything himself.
"It's great to work with someone who knows what they're doing," he said. "I had two amazing mentors, Jim dowton and Gary Bissitt, who are excellent teachers. I am currently working with Gary at Mike's Vallejo and I am learning something new every day. In three or four years, I hope to become a journeyman technician and continue on this path. "