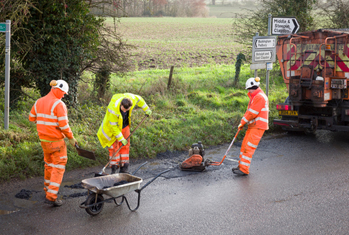 Spending review conceals local road cuts
Road maintenance funding for councils not receiving regulations through the combined authorities appears to be facing a reduction of around £ 200million over three years as a result of the spending review – more if you add inflation.
Chancellor Rishi Sunak on Wednesday announced £ 2.7bn over the next three years for local road maintenance "in places that do not receive city area regulations".
This therefore includes the North East Combined Authority and the Cambridgeshire and Peterborough Combined Authority, which have not received regulations from City Region Sustainable Transport Settlements (CRSTS).
Transport network calculated that authorities outside the CRSTS receive maintenance funding of around £ 969million, suggesting that the £ 2.7million over three years announced in the expenditure review represents a annual reduction of £ 69million, even before inflation is factored in.
It follows the late announcement of a five-year £ 5.7bn CRSTS funding to seven authorities combined: Greater Manchester (£ 1.07bn), West Yorkshire (£ 830m) , South Yorkshire (£ 570m), West Midlands (£ 1.05bn), Tees Valley (£ 310m), the West of England (£ 540m) and the region from the city of Liverpool (£ 710 million).
CRSTS provides the first chance for long-term consolidated transport funding for areas outside London. This dates back to a 2019 announcement that qualifying English urban areas would receive £ 4.2bn in additional funding for local transport networks.
Based on a government statement in August, it appears that most of the additional £ 1.5bn comes from adding funding for the Integrated Transport Block (ITB) and highway maintenance, including the Pothole Action Fund, which receives around £ 232million between them during the current period. exercise under these headings.
Chancellor Sunak also announced that there will be £ 2.6bn from 2020 to 2025 'to deliver a long-term pipeline of more than 50 vital local road improvements, including the A509 Isham Bypass, A259 Bognor Regis and A350 Chippenham which will take the next step. of development ".
Two of these programs fall under the Large Road Network (MRN) and one is a Large Local Network (LLM), two funding streams that were previously combined in the National Roads Fund (NRF). The NRF was initially billed at a value of £ 3.5bn over 2020-2025, but around £ 2bn of NRF funding was later transferred to finance the road investment strategy for the strategic road network ( national).
It is still unclear how much money will be available for the MRN and LLM programs between 2020 and 2025, as the Department of Transportation continued to announce "retained" programs funded by the former Local Growth Fund as if they were constituted new funding.
In total, the Treasury said there would be £ 8bn for the maintenance and upgrading of local roads during this Parliament. This compares to previous announcements of around £ 5.5bn for maintenance (based on current levels) and £ 3.5bn for upgrades.